Patients: For the most up-to-date information regarding the clinic and COVID-19 please click here.
---
Welcome to the Abbotsford Chiropractic Centre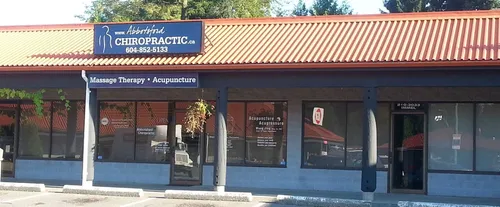 For more information or to schedule an appointment, call 604-852-5133

The Abbotsford Chiropractic Centre is a multi-disciplinary clinic providing Chiropractic, Registered Massage Therapy and Acupuncture services in the Abbotsford area. Whether you've had an auto accident, experienced a work injury or are just suffering the aches and pains of daily living, the Doctors and Therapists at the Abbotsford Chiropractic Centre may have the answers you've been looking for.

At your first visit to the Abbotsford Chiropractic Centre, your doctor will consult with you to see if you are a good candidate for chiropractic care. If there is a good fit, we can develop a plan of chiropractic care that is specific to your condition and health goals.
You may be new to seeing a chiropractor and want to find out more. Feel free to click the "email us" link to ask any questions. Also, you are welcome to call 604-852-5133 and speak to us directly. We also welcome referrals, so we invite you to share our chiropractic and wellness information with your friends and loved ones.

If you want to receive our free health and wellness articles, you can subscribe to our newsletter, even if you are not a patient. Once you subscribe, you can explore our member wellness section and take advantage of our animated exercise videos, wellness articles, and other resources.

"Observational study found that low back pain patients receiving chiropractic care, which typically includes spinal manipulation, are more satisfied than those receiving medical care."
-New England Journal of Medicine

Dr. Anthony Ward
Abbotsford Chiropractors | Abbotsford Chiropractic Centre | 604-852-5133
220-3033 Immel Street
Abbotsford, BC V2S6S2